Where's the cash? Check your Balance Sheet
An important question financial executives are often asked by the Board, their CEO and executive peers is where did our cash go? The folks making these inquiries know sales are being made while money is being spent on salaries, inventory and equipment, but they don't really know how, when or where it flows.
We know the answer lies in the balance sheet accounts. But that is not a simple concept to grasp for professionals who haven't been trained in accounting and finance.
To help you effectively handle the cash generation and cash consumption questions your Board, CEO and executive peers have we have developed this simple tool called Where is the Cash?
Look at the following comparative balance sheet.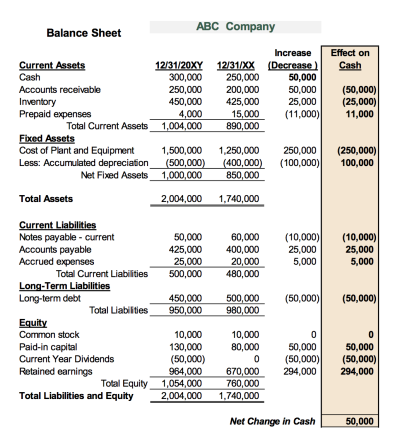 There are some principles in cash flow we learned early in our training that aren't intuitive. Be sure to help your audience understand these.
1. An increase in all asset accounts, except cash, have a negative impact on cash. Given we normally look at assets as a good thing this may sound counterintuitive to your audience. Here is an example you can use to make your point:
An increase in accounts receivable has a negative impact on cash due to more sales not being collected which ties up the cash required to make the product sold.
2. An increase in all liability accounts have a positive impact on cash. Again, this may seem counterintuitive. Here is an example you can use to make your point:
An increase in accounts payable means we are funding our business partly through our vendors which has a positive impact on cash

3. An increase in equity accounts have a positive impact on cash. This is more in line with our intuition.
The simple transaction of capitalizing a business is a good example.

When cash is received for issuing stock there is an increase in cash.

This thought process on cash flow emphasizes the importance of the full business process cycle, which is normally completed with the collection of cash from customers. Research, production, marketing, consulting, sales and shipments don't create cash. That happens when customers pay us.
Here is a link to the Tool Where is the Cash?
Enjoy it. We expect it will help you more easily understand and thoroughly answer the question Where is the Cash? There is an excellent chance discussions arising from this tool will create better cash management practices at your company.
---
Identify your path to CFO success by taking our CFO Readiness Assessmentᵀᴹ.
Become a Member today and get 30% off on-demand courses, tools and coaching!
For the most up to date and relevant accounting, finance, treasury and leadership headlines all in one place subscribe to The Balanced Digest.
Follow us on Linkedin!